Visual Inspection Procedures
This Cylinder Inspection Course is designed to promote safety in the care and maintenance of high-pressure scuba cylinders. The VIP program is intended to demonstrate to the scuba industry, a need to meet and exceed the minimum standards established by the Code of Federal Regulations. In addition, it is intended to train inspectors in the proper handling, filling, and inspection techniques, including the identification of the various defective conditions that can lead to cylinder rejection or condemnation. The course will also cover the operation and repair of valves, cleaning and maintenance and the operation of high pressure compressor systems.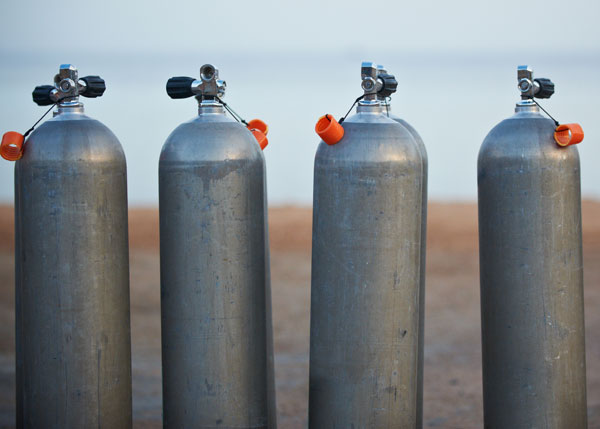 What you can expect to learn
The International Training VIP Inspector eLearning course serves two main functions:
Completion of the online portion of this course meets the OSHA regulations for awareness level training for anyone who handles high pressure cylinders as part of their job duties. Any dive center employee handling cylinders should complete this training prior to handling cylinders. Many divers may benefit from this knowledge as well.
Serves as the academic material for the VIP Inspector course, developing a student's knowledge base and preparing them for the hands-on training components of the VIP Inspector course with their instructor.
The SDI Visual Inspections Procedures course takes an in-depth look at all of the following and more:
Purpose

Legal requirements, standards of the community

Safe handling of cylinders

Fill station operator rules and recommendations
Identification of the various cylinder markings
Legal/illegal filling requirements
Filling procedures

Tools and their uses
Visual inspection indications

Proper identification of the various defect conditions

Criteria for rejection and condemnation of a cylinder

Define the criteria for cylinder rejection
Define the criteria for condemning a cylinder

Other services

Valve inspection and cleaning
Compressor operations
oxygen cleaning

The basis for cylinder cleaning
Visual inspection procedures

Step by step walk-through of the inspection process
---
Course Equipment Requirements
The following equipment is the minimum required per inspection group while performing the visual inspection procedure.
A right angle mirror with a magnification of 2 times, and having a diameter small enough to enter the cylinder neck
An inspection light of sufficient size and intensity to illuminate the mirror and threads being inspected
A light wand or other light source to illuminate the interior surfaces of the cylinder being inspected
A straight and right angle pick and pit reference gauge to estimate the depth of any pitting noted on the cylinder walls
---
Course Prerequisites
---
Want to know more?
Ask more questions or schedule any of these courses Email Us.