Narked Scuba was established in 2011. We have always been passionate about sharing our knowledge with other divers looking to advance their skills, and new divers who are seeking underwater adventures.
Fast forward to present day, we now have over 10 years of training experience, and are located in the heart of the North Florida Springs. We offer courses from beginner all the way to CCR, and everything in between.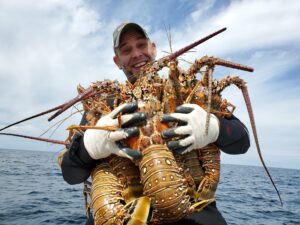 Instructor John McCain
As the son of two avid divers, John was no stranger to the dive community growing up. In 2005 he started diving, and in 2010 began working towards his professional diver ratings. John has been fortunate to work with hundreds of divers over the past decade, and currently holds instructor ratings with SDI, TDI, and NSS-CDS.
In 2014 John moved to North Florida in order to further his career in the dive industry. In addition to his experience as an instructor, John has worked with Dive Rite for 8 years, helping to develop equipment for serious divers around the world.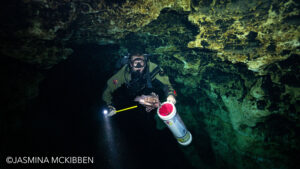 During his free time, John has participated in multiple lionfish tournaments over the years. In 2016 and 2018, he won the Florida Fish and Wildlife Conservation Commission Lionfish Challenge. As of late, Team Florida Man has won the Lionfish World Championship located in Destin, Florida 3 years consecutively. John is very passionate about removing this invasive species from the reefs, and continues to help bring awareness to this issue.
Living in the Florida region known as "Cave Country" has also enabled John to continue his passion for cave diving, and venture into the realm of closed circuit rebreathers. John has over 8 years of experience on the Dive Rite O2ptima, many hours of which have been spent in Florida's vast aquifer.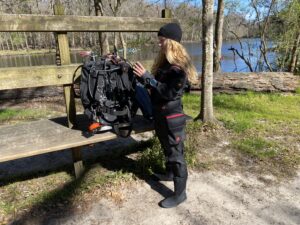 Photography and Video Pro Jasmina McKibben
Jasmina McKibben has spent her life devoted to the development of skills such as photography, cinematography, and scuba diving, with 13 years of dive experience, and four years working in the dive industry. Working in the dive industry enabled her to become an SDI/PADI Divemaster and Technical Diver. Her technical dive training enables her to access and document deep underwater sites and species that would otherwise remain undetected. She is also trained as a cave diver, and a closed circuit rebreather diver, on the Dive Rite CM O2ptima.
Jasmina's lifelong goal has been to explore and protect wilderness and wildlife. She received her BA in Cinema Production from Point Park University, where she focused on documentary and editing. Her wildlife documentary career began when she directed a piece on Great White Shark ecology and conservation in South Africa, leading a team of filmmakers to examine the role that this apex predator has played in its own conservation through eco-tourism. Jasmina has done wildlife documentary work and research for conservation NGO Rainforest Partnership, in the Peruvian Andes. She worked to establish camera transects and collect camera data about Andean bear and other mammals in the area. After completing fieldwork in Peru, Jasmina co-authored and provided photographs for a scientific publication on primate range expansion, in Oryx—The International Journal of Conservation.
Since working in Peru, she has spent over two years participating in camera trap work and creating educational films about Everglades wildlife, working for the Bergeron Everglades Foundation. Her work focuses on the Florida panther, Florida black bear, and Everglades Restoration. During her time with this nonprofit, she worked collaboratively on the "Sawgrass to Seagrass" curriculum with the Guy Harvey Ocean Foundation. This project aims to promote ocean and Everglades conservation through visual media in a curriculum that is now in the public school system.