TDI Divemaster
The TDI Divemaster Course is the first professional level certification in the TDI leadership levels. During this course you will be challenged and learn what it is like to work with divers as they begin or continue their technical diving experiences. You will learn how to manage divers, work as land or boat support, and conduct enjoyable dives. Dive physics, physiology, how conduct pre-dive briefing, how to assist technical instructors as well as how to be a professional TDI Divemaster is all part of the course. Your skills will be refined to demonstration quality and your knowledge increased to that of a technical diving professional.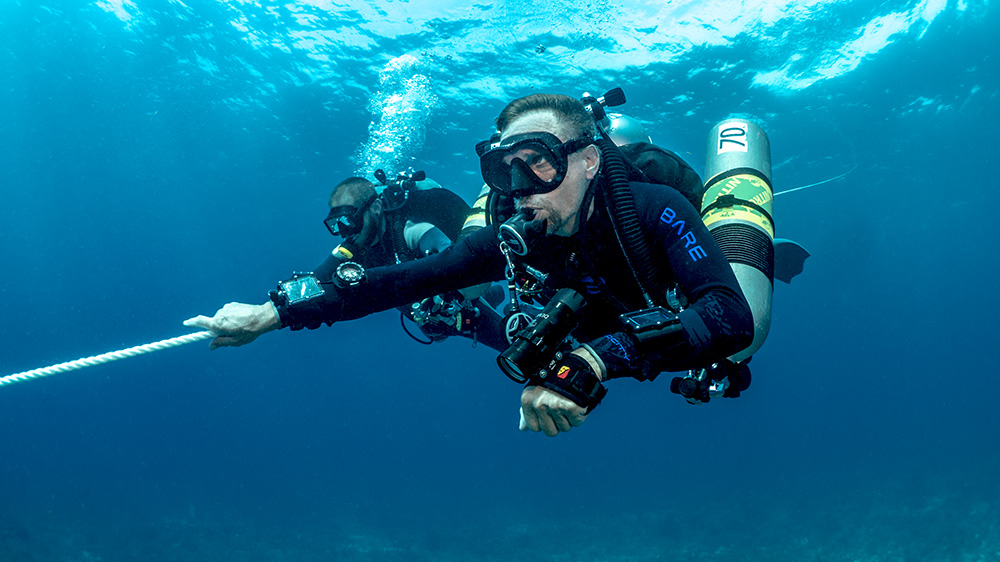 What you can expect to learn
Instructor must use the current TDI Standards and Procedures Manual but may also use any additional text or materials that they may feel help present these topics. The following topics must be covered during this course:
Knowledge development

Recreational dive leader
Diving physics
Diving physiology
Diving equipment
Personal dive skills
Professional skills
---
Course Equipment Requirements
Mask and fins
Buoyancy compensator device (BCD) with low-pressure power inflator
Regulator with submersible pressure gauge; students wearing air integrated hose-less computers are not required to carry a separate submersible pressure gauge
Alternate air source
Weight system and/or weights
Personal dive computer
Exposure suit adequate for the training conditions
Compressed gas cylinder
Compass
Knife and rescue signal
A dive flag is required on all open water training dives unless otherwise specified by local laws or regulations
Extra equipment associated with the particular technical diving activity they are participating in
---
Course Prerequisites
Minimum age 18
Certified as an SDI Divemaster (equivalent ratings from other agencies are not accepted for this TDI Divemaster prerequisite. Candidates must crossover to SDI prior to the TDI Divemaster course)
Provide copies of current CPR and first aid training
Have a current medical examination signed by a licensed physician within the past 12 months
Provide proof of 50 logged dives
Certified as technical diver for which they are applying as a TDI Divemaster in
---
Want to know more?
Ask more questions or schedule any of these courses Email Us.