Advanced Wreck
The TDI Advanced Wreck Diver Course is the next step for any diver that has successfully completed the SDI Wreck Diver Course. During this course, your TDI Instructor will teach you the proper techniques for locating and planning an advanced penetration dive. The advanced wreck course is commonly taught with other popular TDI courses such as Advanced Nitrox, Decompression Procedures, Extended Range, Closed Circuit Rebreather, and Trimix.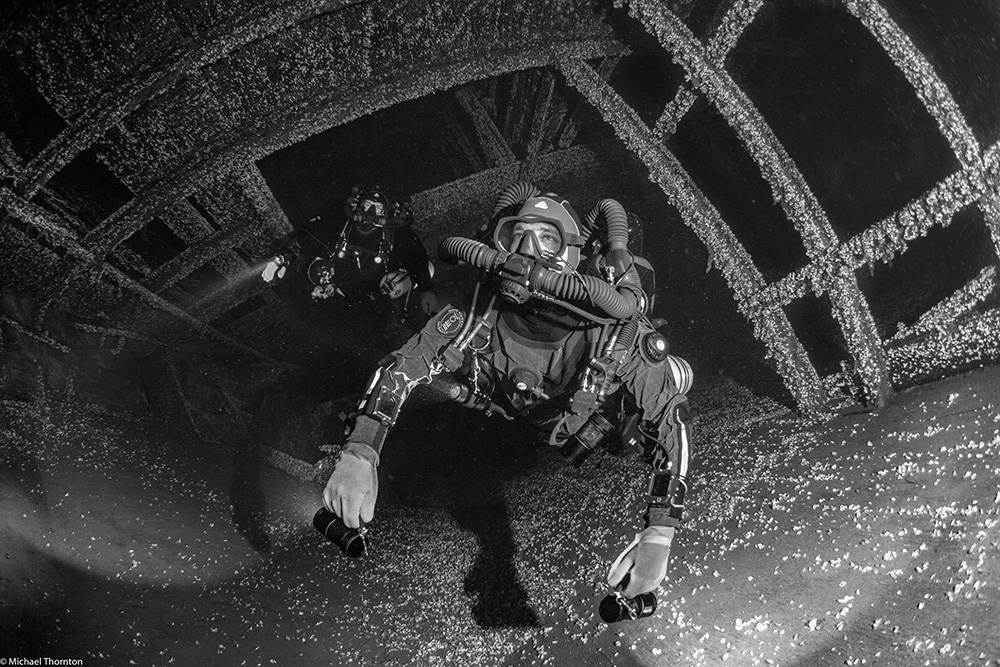 What you can expect to learn
What you can expect to learn:
Use of advanced wreck diving equipment including:

Primary cylinder(s)-dual outlet single tank, independent doubles, or doubles with isolation manifold
Decompression/stage cylinders
Redundant primary regulators
Primary and back-up lighting systems
Penetration/safety reels
Lift bag/SMBs

Wreck penetration procedures

Equipment selection
Pre-dive checks and drills
Stress analysis and mitigation
Guideline use, deployment, following, retrieval
Team awareness and communication
Emergency procedures (equipment failures, catastrophic gas loss, omitted decompression, navigational errors, entrapment/entanglement, loss of visibility, injured/unconscious diver, etc)
SMB/lift bag deployment

Proper trim, buoyancy and propulsion techniques
---
Course Equipment Requirements
The following equipment is required for each student
Primary cylinder(s)

Cylinder volume appropriate for the planned dive and student gas consumption rate
Dual valve, double manifold or independent doubles
Labeled in accordance with TDI Standards

Travel or decompression cylinders as required by site conditions
Regulators

Primary and primary redundant required on all primary breathing cylinders
Submersible pressure gauges are required on all primary cylinder(s)
A contingency use long hose second stage should be designated and appropriately rigged to facilitate air sharing at depth if necessary

Buoyancy compensator device(s) (BCD) adequate for the open water environment
Primary and back-up depth and timing devices
Air or multi-gas decompression computers allowed for use as depth and timing devices
Light Systems
Ascent reel with lift bag/surface marker buoy or up-line

Adequate for the planned maximum depth
Adequate lift and size for the dive environment

Exposure suit adequate for the open water environment
Two line cutting devices
Underwater slate
Reels

Primary penetration reel
Safety reel

Options that the instructor may require

Submersible dive tables
Bail-out cylinder with regulator
Jon-line
Compass, surface signaling device (flare, strobe, etc.)
---
Course Prerequisites
Minimum age 18
Minimum certification of SDI Advanced Adventure Diver or equivalent
Certified SDI Wreck Diver or TDI Cavern Diver or equivalent
Proof of 50 logged dives
---
Want to know more?
Ask more questions or schedule any of these courses Email Us.